The convergence of investment in broadband infrastructure in many countries, the proliferation of feature phones and flexible pre-paid schemes, has recently led to the creation of millions of new 'digital citizens' around the world. The internet – and specifically social networking – has changed the way people, and particularly young people, access and create information. These exciting developments mean that never before has there been such a rich opportunity to engage the world's digital citizens, including a newly empowered youth, in issues surrounding children's rights and well-being.
UNICEF has harnessed this potential, and
 today employs a range of web-based tools
 to share updates about their work, broaden understanding of development challenges, inspire young people with stories of success and progress, and mobilise support to help the organization reach the world's most vulnerable and marginalized children.
No longer the privilege of developed nations with massive infrastructural capacity, the internet is going global. A study conducted in South Africa – a country characterised by very high socio-economic inequality – entitled The New Wave found that around 40 per cent of South Africa's internet users have an income of less than 200 USD a month – and among those using the internet for two years or less, two-thirds were classified as low in- come or living below the poverty line.
Around 40 per cent of South Africa's internet users have an income of less than 200 USD a month
In addition to web use, the explosion of social networking – in the broadest sense – and the proliferation of social networking sites and services has lowered the barrier to entry exponentially. For example, an individual, even a child, with a smartphone, or even a simple feature phone, and access to a reliable internet connection has the potential to be a creator of content, producer of information, and even a reporter. Furthermore, social networking has enabled people to connect directly with high profile personalities or organisations – from presidents and government ministers to journalists, activists and United Nations agencies – in a different way to traditional media outreach.
Via the creation of compelling evidence-based multimedia content within this context, UNICEF has successfully used social media to communicate directly with the people who are interested in their work, and to foster a sense of collaboration and trust. For example, the global UNICEF Facebook page, created in 2009, now boasts over three million fans, and the organization's combined global social media audience is around eleven million strong around the world. This includes multiple global platforms such as Facebook, Twitter, YouTube, Tumblr, Instagram, Pinterest and LinkedIn, as well as country- or region-specific platforms such as China's Sina Weibo and Tencent. In April 2013, UNICEF was recognised for being the top non-profit on Twitter for engaging its audiences, and is in the top five list for non-profit brands on Facebook.
Empowering the World's Youth
Children and young people are the most active users of social media and other digital tools. Even pre-dating the current social networking giants, there have been countless international and local platforms, networks and forums which have given young people a place to assemble online peacefully – to exchange ideas and opinions on matters that are important to them, or to engage in debate.
In 1995, UNICEF founded Voices of Youth – an online space for young people to learn about human rights, development and UNICEF's work. Users are encouraged to share their views and opinions on matters that concern them, to en- gage in dialogue and debate with other young people from different countries and contexts, and to become inspired to take action for positive change in their own communities. Designed with flexibility, and multi-platform and multi-language, use in mind, Voices of Youth has successfully attracted young people to its websites and social media platforms. Significantly, children are the primary content contributors – even in low-resource and low-connectivity settings.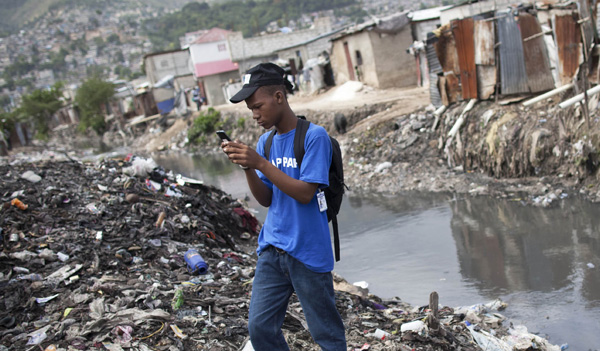 In 2011, UNICEF staff in New York and Rio de Janeiro collaborated with digital innovators, government officials, community leaders and other partners to design a programme which would see young people creating maps that depict the social and environmental risks in their surroundings. Over three years later, the outcome is the Voices of Youth Maps, an initiative that promotes the use of digital mapping to help young people participate in improving their communities. By training young people to use a simple digital tool in the context of a structured programme, and partnerships with local authorities, the youth participants in the Voices of Youth Maps are able to play a critical role in improving their communities. In Brazil, following the success of the initial phase in Rio de Janeiro in 2014, the project is being expanded to 30 schools in three regions.
Voices of Youth Maps is one example of how UNICEF offices around the world are using simple digital tools to empower citizens, including children and young people, to be partners in development. In Uganda in 2011, UNICEF launched U-Report – a simple SMS-based system which enables citizens to monitor and report on conditions in their communities. In addition to the SMS-based polls and messages to and from users, there are also weekly radio programmes and regular news reports which share updates and select stories collected via SMS. To date the system has just over 250,000 members.
In Zambia, UNICEF and partners are utilizing U-Report to educate young people and to en-
gage them on issues related to HIV
and AIDS. By signing up to Zambia U-Report young people can access a wealth of information on HIV and sexually-transmitted illnesses, and can communicate directly with trained counsellors. The system also allows UNICEF and its partners to conduct polls with U-Report users, which can then be used to inform awareness-raising and information campaigns.
In Zambia, UNICEF and partners are utilizing U-Report to educate young people and to engage them on issues related to HIVand AIDS
The Digital Divide
It is important to remember that while the uptake of mo- bile internet has been remarkable over the past two years, there remains a 'digital divide' – the gap between people with effective access to digital and information technologies, in particular the internet, and those with limited or no access at all.
In fact, according to 2013 data from the International Telecommunications Union (ITU), the percentage of individuals using the internet in the developing world was only 30.7 per cent – less than half of that in the developed world. Lack of access to digital tools is even more likely among highly vulnerable groups of children and youth – young children, females, children living with dis- abilities, out-of-school children, unaccompanied migrant children and many others – who also struggle to access information through traditional channels, and who are most at risk of being left behind.
Additionally, while mobile use is helping to narrow the gap in access to the internet and is offering many of the advantages of internet access to people who have previously not had it, ownership rates, usage patterns and quality and cost implications vary wildly. Moreover, people who only access the internet via mobile phones have a significantly different user-experience than people who access it via a computer or even a tablet. For those who have access, there is also a significant imbalance in the quantity and quality of content in different languages on the internet – with a significant bias for those who speak English. In South Africa, for example, The New Wave study found that illiteracy in English was one of the greatest barriers to internet use.
When using digital tools to engage younger digital citizens it is also necessary to consider – and minimize – the range of risks they may be exposed to while they navigate the online world. Undesirable consequences may include, for example, new types and dimensions of bullying amongst peers, new channels of solicitation for sexual predators, greater potential for exposure to negative content, and concerns about personal data privacy and targeting by advertisers and marketers. Some of the key challenges in ensuring the safety and well-being of children online include the high degree of anonymity that the internet offers transgressors, the fact that the internet is border- less which has implications for jurisdiction when dealing with crimes, and the speed and ease with which content can be shared. Within Voices of Youth, to address this issue there is a regular focus on educating and empowering young people to make safe and responsible choices online through the Voices of Youth Citizens initiative.
Finally, there have been numerous examples in the media of instances where governments from around the world have taken severe actions against individuals who expressed unfavourable or critical views on political matters online, particularly through blogs and social media platforms. While the internet offers greater freedom of expression and assembly for activists – child or adult – such incidents, and fear of reprisal, impact on the realisation of these rights.
With every passing year, more and more global citizens become global 'digital' citizens. This presents an incredible opportunity for UNICEF to build on the successes of our engagement thus far, and to mobilize and empower even greater numbers of people to take positive action to improve the well-being of children in their own countries, and around the world.