According to the OECD, in many countries girls have caught up with or surpassed boys in science proficiency at school. However, with research showing that a mere 32 per cent of employed scientists and engineers are women, the challenge lies in being able to retain female scientific talent and encouraging the level of participation beyond school and into the workplace.
In the UK, girls make up just over half of GCSE students studying science; yet this level of participation in science dramatically decreases as the academic levels rise, particularly when compared to their male counterparts. Today, women make up 12 per cent of all employees in Science and Engineering Technologies SET occupations in the UK, and in academia only nine per cent of all full-time professors in Science, Technology, Engineering and Mathematics (STEM) departments are women.
The L'Oréal UNESCO For Women In Science (FWIS) international programme was founded fifteen years ago by L'Oréal and UNESCO to address this imbalance, on the premise that 'the world needs science and science needs women'. The programme is designed to promote and highlight the critical importance of ensuring greater participation of women in science, by awarding promising female scientists with fellowships to help them further their research. Since the programme was founded over 1,700 women in 108 countries have been recognised for their research and received funding to further their studies.
The FWIS programme supports women at varying stages of their careers. Each year the founding 'International FWIS Laureate Awards' provides five women, one from each continent, with a prestigious laureate of up to $100,000 for their research. Alongside this, FWIS also operates a national programme in 46 countries offering fellowships to female scientists. Since it was founded in 1998, the programme has honoured 77 Award Laureates (including two who have gone on to win the Nobel Prize), and supported more than 1,652 Fellows from around the world. Imperial college London's facility is among those who have been commended as in 2012 the university's Dr Katrina Lythgoe was awarded the UK fellowship for her work in 'multiscale evolutionary dynamics of important human diseases'.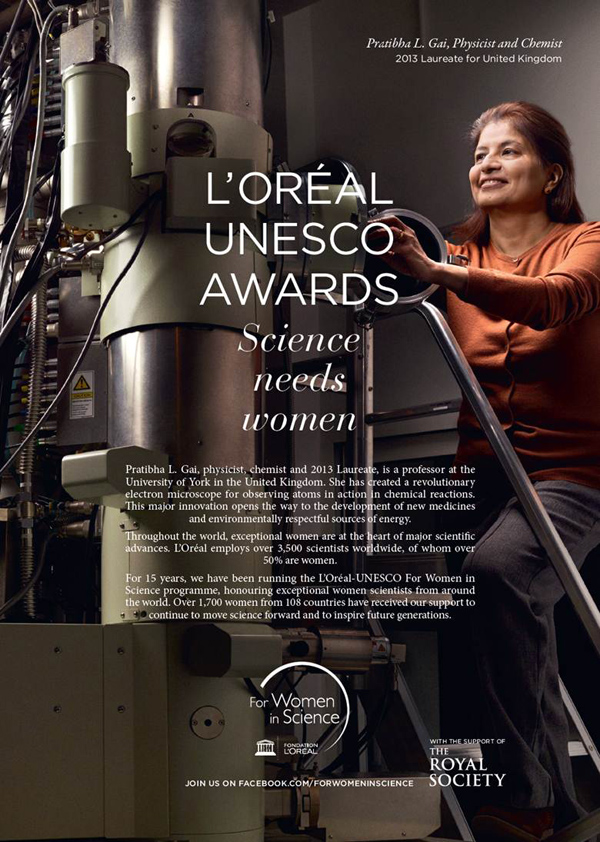 UK Scientist Professor Pratibha Gai was this year named the 2013 European Laureate at the 15th annual L'ORÉAL-UNESCO For Women in Science Awards. Professor of Chemistry and Physics at the University of York, Professor Gai follows in the footsteps of Professor Frances Ashcroft who won the award for Europe in 2012. Professor Gai joined five other exceptional women scientists from around the world, who were recognised for their contribution to science at an awards ceremony, held at the Sorbonne in Paris, in March this year. Professor Gai was awarded for her work for ingeniously modifying her electron microscope so that she was able to observe chemical reactions occurring at surface atoms of catalysts which will help scientists in their development of new medicines or new energy sources. The awards jury was chaired by Professor Ahmed Zewail, winner of the 1999 Nobel Prize in Chemistry, and Linus Pauling, Chair Professor of Chemistry and Professor of Physics, California Institute of Technology.
The 2013 awards theme is 'Physical Sciences' with the Laureates selected through nominations by an international network of nearly 1,000 members of the international scientific community. The research of the 2013 Laureates demonstrates exceptionally original approaches to fundamental research in the Physical Sciences, from contributing to better understanding climate change to advancing research on neurodegenerative diseases and potentially uncovering new energy sources. Professor Gai is the fourth British scientist to have been selected from the whole of Europe in the 15 years of the programme's existence. This impressive achievement highlights the UK's position as an excellent incubator of scientific talent, with only France matching this total in Europe.
UNESCO Director-General Irina Bokova commented on the awards "These five outstanding women scientists have given the world a better understanding of how nature works. Their pioneering research and discoveries have changed the way we think in various areas of the physical sciences and opened new frontiers in science and technology. Such key developments have the potential to transform our society. Their work, their dedication, serves as an inspiration to us all."
"We are very proud to have changed the face of science by supporting women in science" said Jean-Paul Agon, Chairman and CEO of L'Oréal and Chairman of L'Oréal Foundation. "We are convinced that science and women bring hope and foster discovery, innovation and excellence. All the best talents must be called upon to accomplish this mission. L'Oréal believes in women, L'Oréal believes in science."
The L'Oréal-UNESCO UK & Ireland 'For Women in Science' National fellowships were launched in January 2007. The fellowships are run in partnership with L'Oréal and the National Commission for UNESCO, the Irish National Committee for UNESCO and the Royal Society.
Each year, four fellowships of £15,000 are offered to outstanding female postdoctoral researchers. The fellowships have been designed to provide practical help for the winners to continue in their chosen fields. Notably, there are no restrictions on what the winner can spend their prize money on. Winners may choose to spend their Fellowship on buying scientific equipment or paying for childcare costs or indeed whatever they may need to continue their research. Since the UK and Ireland FWIS programme started, L'Oréal has awarded a total of £420,000 to a network of 28 Fellows.
Dr. Emily Flashman from the University of Oxford, who was one of the winners of the fellowship for her research into the adaptation of oxygen-sensing enzymes in times of stress to help develop cancer treatments, commented: "I spent the fellowship money on a machine that allows me to monitor how quickly my enzymes react with oxygen. It has really helped our research make progress, as well as opening up new areas of research for me through collaborations."
The programme not only awards promising female scientists financial support, but has evolved into an important platform for inspiring future generations of female scientists by giving women a public voice and forum to speak out for science. FWIS Fellowship events provide support, training, and vital networking opportunities for female scientists in the UK. Through such events, FWIS Fellows make valuable friendships and connections that have led to interesting collaborations, publications and wider appreciation of their work. Each year L'Oréal organises networking events for former fellows at The Royal Society in London. These events provide the opportunity for Fellows to share their experiences of working in science and share advice on a wide range of topics including how to promote their work in the media.
Dr. Heather Whitney from the University of Bristol, another fellowship winner commented: "I've done things I would never have dared done before, such as speaking at the Cheltenham Science Festival, a Government Science Conference and even a TedEx. It has given me new opportunities for research, science engagement and more confidence. This led to me being offered a permanent position at Bristol".
The long term success of FWIS is perhaps best summed up by Soapbox Science, an annual event set up by two FWIS fellows in partnership with L'Oréal. The event is held on London's Southbank every summer, and invites leading female scientists to speak in public about their work. Now in its fourth year, the event has received over 60 applications from female scientists wishing to take part, illustrating a new found enthusiasm for female scientists to inspire a new generation by telling their story. The event has also received widespread national media coverage helping to highlight the importance of women in science. L'Oreal's efforts are importantly pushing the message that 'the world needs science and science needs women'.