A model house at Dier El-Boukhet, Daraa province, Syria, aims to illustrate the potential for designing and building load-bearing structures using traditional architectural systems of vaults and domes for ceilings in the region – without the use of expensive reinforced concrete. This is a model for developing rural housing in Syria by means of relying on local resources including labour, materials and techniques.
The purpose of this project is to reduce inflated construction costs which are the result of using imported steel, to enhance living standards, and to help address contemporary socio-economic and environmental issues in the region.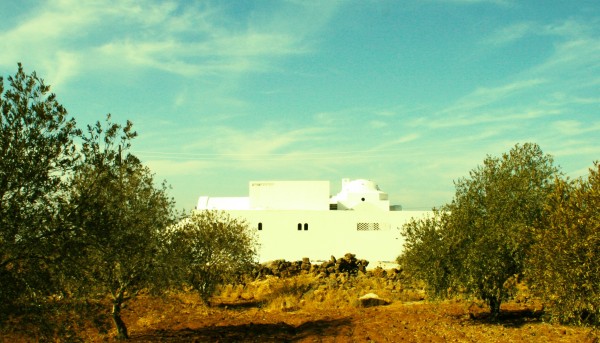 The Syrian economy relies mainly on agriculture, oil industry and tourism. In the last couple of years, challenging climatic conditions and drought have badly affected the agricultural sector, yet this decine has been countered by increasing crude oil prices.
According to World Bank data, the population of Syria in year 2011 reached more than 20 million inhabitants. 90% of Syrians are Arabs and around 35% of the population lives in the four major cities (Damascus, Aleppo, Homs and Hama) while the remaining inhabitants are spread across the Euphrates in towns and villages and along the coastal plain.
Since March 2011, Syria has witnessed an unprecedented period of crisis and escalating violence due to the current political turmoil, and this has led to a devastating economic downturn.
Due to the growing population in Syria, the demand for housing solutions is becoming greater every year. However, with the increasing price of steel and fossil-fuel based energy, the cost of building a house in rural areas is becoming unattainable for the low income rural population.
The aim was to identify building materials that would challenge the dominance of conventional building methods
Syria is considered a geologically rich and a diverse country. It has a great deal of natural components that can be transformed, using simple methods, into durable building materials. This includes lime stone in northern regions, coral stone near coastal areas, sand stone in the central province, lava stone in southern areas, and clay in river beds that can produce mud brick in the eastern part of the country.
Furthermore, the long line of traditional crafts that Syria celebrates can be found in the construction of historical houses and buildings including stone masonry, glass blowing, brass making and intricate wood work. These skills are slowly dying due the invasion of modern imported commodities and techniques.
Today, most rural residents rely on the reinforced concrete and cement block model to build a conventional house, and such projects are mainly financed through government loans. The loan is paid back to the government with interest over a period of 15-25 years and the monthly loan repayment usually consumes 50-60% of the debtor's income.
Almost 45% of the cost of such structures relates to one single commodity: imported steel. This steel is mainly imported and subsidized by the government, which creates a vicious cycle: the government is paying an inflated price for an imported item and low-income dwellers are trapped in a high-debt poor-housing long-term situation.
This has indirectly resulted in increased rates of unemployment and poverty, leading to the obstruction of real development among the majority of rural residents. As a result, migration from rural parts to major neighbouring cities or countries has increased, leading to less government attention for rural areas and more challenges for a denser urban population in major cities.
An Innovative Design Approach
The southern part of Syria (Horan area) is very rich with a volcanic or Lava stone named Basalt which is considered to be one of the strongest rocks on earth. Basalt is a dark and very fluid rock that tends to flow during volcanic eruptions to form flood basalts and shield volcanoes that may cover several thousand square kilometres.
The house is located in a village called Dier El-Boukhet that belongs to Daraa Municipality, in the south-west region of Syria, around 45km south of Damascus city. The majority of the 8,000 inhabitants of the village have low-middle income.
The area is mainly dry and hot during summer and has around 300 days of sunshine during the year. The weather is partially influenced by cold winter wind due to its altitude which is 670m above sea level. The micro-climate of the site was taken into consideration in order to provide maximum thermal comfort.
The design of the house is based on the social and functional needs of the client and his family, while also taking into consideration environmental and climatic challenges. On the other hand, the design also attempts to respect a cultural identity through the continuity of local and traditional housing solutions in addressing contemporary requirements.
The design also attempts to respect a cultural identity through the continuity of local and traditional housing solutions
Specifically, it reintroduces traditional elements that naturally enhance the architectural space, with the use of courtyards, domes and vaults for ceilings, wooden doors and windows, stained glass to diffuse and filter light, thick bearing walls for heat insulation and Basalt external flooring to provide a cool external surface.
The open courtyards are the focal point of all activities, with all living spaces overlooking the courtyards. Their accompanying vegetation and use of water fountains and air circulation provide a naturally controlled microclimate, which is a celebrated aspect of most Arab traditional architecture.
A New Material Composite
The aim was to identify building materials that would challenge the dominance of conventional building methods, namely the use of reinforced concrete roofs that are both prohibitibly expensive and normally result in poor housing conditions in such areas. These materials should be simply and quickly made on site by unskilled or semi-skilled labour, have sufficient mechanical strength and be less expensive than other available building materials.
Such an approach would also establish a new socio-economic model in providing an affordable alternative to imported materials by using local resources to enhance employment opportunities for locals. In addition, technical supervision and training should be carried out on-site hence resulting in the transfer of knowledge and subsequent empowerment of the local community.
Our initial plan was to build the house using the available Lava stone. However, it was very expensive and challenging to find a local stone mason that would build the house using Lava stone due to a loss of specialist expertise over time. However, after extensive research and experimentation, we were able to develop a new composite construction material that is made from local Lava stone.
This new Basalt solid block consists of 80% multiple granulometry of crushed basalt, 2% lime stone powder, 8% cement and water. It is easy to make locally, less expensive than stone cutting or conventional cement block construction, strong and durable and has a similar thermal and moisture insulation to raw stone due to the nature of its special mixture.
The main advantage of this new material is that it enables people to build their own houses up to three floors without the use of reinforced concrete or steel by means of load barring walls and domed or vaulted ceilings, while employing ordinary block masons or non-skilled labour.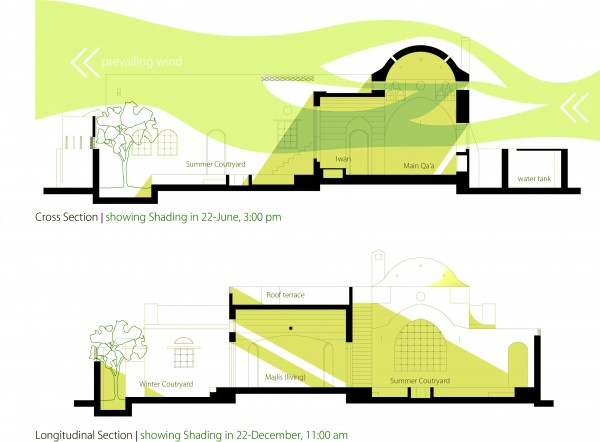 Bringing Back Traditional Construction
Load-bearing design and construction belongs to a long tradition that was dominant in most of the Arab countries before imported building materials took hold in the early twentieth century. Yet attempts have been made in the past to return to more traditional methods.
In the early fifties the prominent Egyptian architect Hassan Fathy started to work on reviving indigenous housing solutions for the inhabitants of rural Egypt at a minimal cost, aiming to lower costs and improve the standard of living in rural areas by utilizing traditional design methods and materials.
The following generation of traditional architects such as Abdel Wahed El-Wakil and a few others continued to build houses, public buildings and mosques on a larger scale around the Arab world using the same principles based on climate control and economical construction techniques.
In 1987 a series of traditional stone construction schools and a house were initiated by Syrian architect Raif Muhanna in the Horan area in Syria. This system relied on low-cost, effective, speedily erected buildings with a high dependency on locally sourced basalt stone and a construction system based on stone arches. These structures were among the first attempts to reintroduce traditional notions in response to contemporary challenges in the southern part of Syria.
Employing a similar approach in combination with the new composite material, the model house was 35-40% less expensive to build than the conventional low quality houses that are being built in the region today.
The Future
The rich and diverse wealth of historical buildings spread across the Arab and Islamic world demonstrate past mastery of engineering and craftsmanship in the use of locally available building materials and construction techniques.
Such traditional construction may be implemented as widely today using a variety of natural local load-bearing materials such as raw stone, brick or block provided that it meets a certain minimum mechanical strength. The fundamental traditional craftsmanship skills, the building materials and a local labour force are available, but the challenge remains to re-institutionalize traditional building practice as a replacement for current conventional building systems.
Such challenges can be addressed by collaboration between government and the private sector, by establishing training of traditional techniques, by introducing regulations and facilities that encourage the use of natural and local materials, and by presenting a clear business case.
The adoption of this type of model for a cost-effective sustainable housing strategy on a broader scale could help rural people build their own houses at much lower cost, and eliminate the need for expensive imported materials and expertise thus providing local employment opportunities. Most importantly, it is a chance to revive local pride in timeless tradition, culture and wealth.